Do the words 'Sexy' and 'Chocolate' go together? Of course! Chocolate has been linked to passion and romance since it arrived in Europe in the 16th century. The Aztecs even believed chocolate was an aphrodisiac due to its intense flavour and energy-giving qualities.
Maybe you think strawberries are sexy too, but how can you integrate them to please your taste buds and trigger some passion?
In this article, we'll discuss how combining chocolate and strawberries for a delicious treat will ignite some sparks. So pour yourself a glass of wine, light a candle, and get prepared for some sensual tasting!
Being intimate with your partner is vital for a relationship
Building a strong bond between two people requires intimacy. This can range from physical contact to the ability to share emotions. Developing your relationship through intimacy can create trust and deepen understanding, setting the groundwork for a more fulfilling experience.
Treats like choco-berries are important: spice up the relationship and keep the spark alive by showing you care.
Chocolate and Strawberries: The Perfect Combination for Intimacy
The sweet and tangy combination of chocolate and strawberries has been treasured for centuries as an indulgence to share in romantic moments. Chocolate-covered strawberries are an ideal treat to celebrate anniversaries, Valentine's Day, or a night in with your special someone; this perfect pairing exudes an irresistible flavour that symbolizes closeness and intimacy.
Dark chocolate is widely regarded as the best option to enjoy with strawberries due to its rich flavour, which helps bring out the sweetness of the fruit.
History of Chocolate and Strawberries as Aphrodisiacs
Chocolate and strawberries are traditionally regarded as symbols of romance and sensuality, and for centuries they have been used as natural aphrodisiacs.
The Aztecs highly regarded chocolate for its purported aphrodisiac properties and used cocoa beans as legal tender, showing the significance of this beautiful food. Furthermore, they believed that consuming chocolate could increase sexual desire and performance.
Ancient Romans believed that consuming this sweet fruit could boost fertility and libido. In the Middle Ages, strawberries were symbols of love and passion, often featured at romantic events or celebrations.
Chocolate and strawberries remain an iconic duo, perfect for setting a romantic mood. Celebrate anniversaries, spoil your partner, or show your love – this classic pairing will surely bring passion and intimacy to any special night.
How Chocolate and Strawberries Enhance Intimacy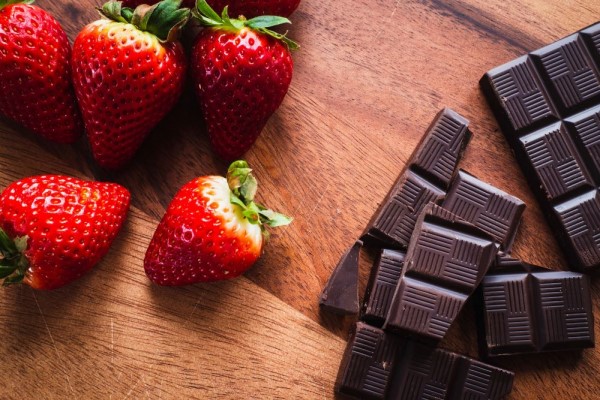 Enjoying chocolate and strawberries together can create an intimate atmosphere. These two luxurious foods taste delicious and have an extraordinary power to increase passion and affection between two people. So whether you are out for dinner with someone special or spending quality time alone, chocolate and strawberries will set the mood for a night filled with love.
Chocolate and strawberries balance sweet and tart flavours perfectly, making it an ideal romantic experience. The combination of the intense dark chocolate and the sweetness of the strawberry is sure to tantalize your senses, creating a memorable atmosphere for any special occasion.
1. Taste & Texture
Chocolate's sweetness, creaminess and richness perfectly complement strawberries' tart yet sweet flavour, resulting in a unique and luxurious taste experience.
Combining chocolate's rich, indulgent texture and the refreshingly tart texture of strawberries creates an irresistibly delicious harmony that will make your mouth water.
2. Visual Appeal
Making your dish visually attractive can be a great way to increase the intimacy of the experience. For instance, you could offer a delicious fondue with chocolate and strawberries or dipped chocolate-covered strawberries for a romantic setting.
Your partner will be impressed with melted chocolate and fresh strawberries; dipping them together can be a fun and playful gesture to show your love.
3. Aromatic Appeal
The delectable combination of chocolate and strawberry scents can create a cozy, intimate atmosphere. The blend of the sweet, inviting aroma of chocolate and the pleasing tanginess of strawberries is sure to awaken the senses and set the stage for romance.
4. Release dopamine
The appeal of these two treats is that they both cause a release of dopamine, a neurotransmitter related to pleasure and reward.
Consuming chocolate or strawberries triggers the release of dopamine in your brain, evoking a pleasant sensation that can foster intimacy between two people and promote connection on a deeper level.
Recipe for Chocolate Covered Strawberries
Chocolate-dipped strawberries are a timeless treat that is delightful to the palette and pleasing to the eye. Whether celebrating a milestone or simply looking to satisfy your sweet tooth, these yummy morsels come together with little effort and just a few ingredients.
To make chocolate-covered strawberries, you will need the following:
1 pound of fresh, ripe strawberries

1 cup of semi-sweet chocolate chips

1 tablespoon of coconut oil

Sprinkles or other decorations (optional)
Instructions:
Wash and dry the strawberries, then set aside.

Melt the chocolate chips and coconut oil until smooth in a double boiler.

Dip each strawberry into the melted chocolate and coat it thoroughly. Place on a parchment paper-lined baking sheet.

Add sprinkles or other decorations to the chocolate-covered strawberries if desired.

Place the baking sheet in the refrigerator for 30 minutes to allow the chocolate to set.

Enjoy your delicious and sexy chocolate-covered strawberries!
Spice Up the Sex Life With Chocolate & Fruit
It doesn't have to be strawberries; you can combine chocolate with other fruits and foods. What's important is your intimacy with your partner, how you benefit from a deeper connection, and, most importantly, delicious chocolate-covered treats.