Fireworks in the bedroom
For many of us, summer is synonymous with "increased sex drive". As the days get longer and brighter, our levels of dopamine, the hormone responsible for sexual desire, start to rise, propelling us into our bedrooms. Here are a few ideas to bring the fireworks indoors and under the covers this summer. Ready to see some sparks?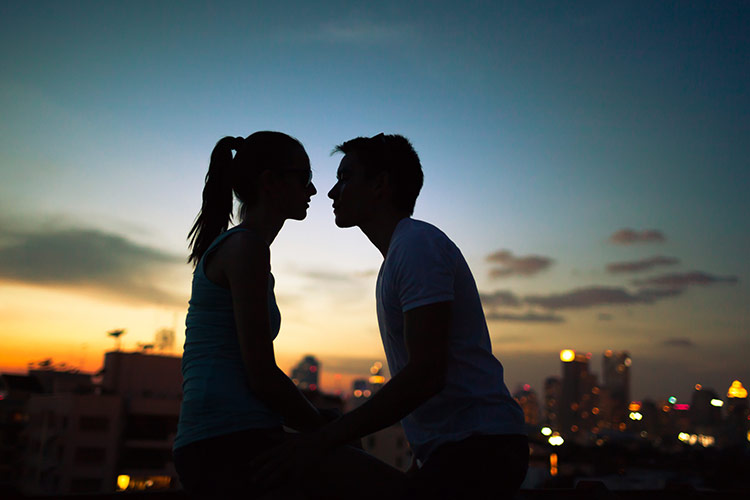 1. Make him melt
Meteorologists have been warning us of a heat wave this summer, so you'll want to stock up on a few cooling treats. You'd be surprised at how much fun you can have with a single ice cube, especially one in the shape of—what else—a penis. Fill these ice cube trays with the following mix: one can of ginger ale, one glass of peach juice, some minced fresh ginger, and a spoonful of honey. Leave them in the freezer for a few hours and you'll have a spicy-sweet aphrodisiac.
When the heat wave does hit, you can use this refreshing gel that will intensify your pleasure by heightening all your sensations. Just a tiny drop should be enough for one return trip to Nirvana. We guarantee that this cooling gel won't leave you or your partner cold!
Cooling sensual lubricant by ID Moments, $9.99, at Boutique Séduction and online. 
2. Sexy Snacks
Cook up a feast of sexy, libido-boosting foods! Start with a visit to the grocery store to stock up on stimulating ingredients. Avoid anti-aphrodisac foods, such as lettuce and anything containing hops, like beer; these will drain your sex drive.
Begin your sensual banquet with a cocktail made from one part lemon juice and three parts rum, to which you'll add a spoonful of desire-boosting honey. For the entrée, offer your lucky guest oysters (rich in zinc, which raises testosterone levels, a hormone connected to arousal), and if you can, a few spoonfuls of caviar.
Follow this with a sauté of shrimp and fresh ginger (the most powerful aphrodisiac at your local grocery store), alongside a salad of Eros-boosting veggies, like avocado, artichoke, raw red onion, asparagus, and fresh mint.
Finish with dessert: a chocolate fondue spiced with cinnamon and nutmeg, into which you plunge bananas; not just a phallic symbol, this tropical fruit is rich in nutrients you'll need in the bedroom. For an after-dinner drink, try mixing sparkling wine with honey—pleasure guaranteed!
3. Hit the Beach
Spend a day at the beach with your sweetie. We bet the sight of you in a cute little bikini will give him at least a few ideas! If you really feel like it and it doesn't bother you, try the monokini. You can enjoy it while traveling (it's more common in Latin America and Europe!) No beach where you live – topless or otherwise? Then make one yourself. Choose the warmest room in your house, and keep the windows closed to make sure it stays steamy. Move all the house plants into this room, for a tropical feel. If you really want to experience the beach, empty a few bags of sand onto the floor—uncarpeted, of course! Grill some burgers, mix a few margaritas and piña coladas, then get out the suntan oil and relax. The only rule? You and your partner have to spend the evening in your bathing suits. Instant Caribbean ambiance guaranteed!
4. Location, location, location
Going to new places is an easy way to spice up your sex life. Whether it's for a weekend or an entire week, a getaway can seriously revive your libido. Why? When you're on vacation, you feel less stressed, and more open to suggestions. So why not check into a hotel, a bed and breakfast, or a camping ground this weekend? If you're stuck at home, change rooms. Set a rule: no sex in the bedroom for one weekend. You'll never see your living room, kitchen, or home office in quite the same way again.
5. Tickle Me, Himbo
Everyone's heard of strip poker, but not everyone likes playing cards during a romantic evening. Try inventing a game instead, and each time one of you loses a round, you remove a piece of clothing. Why not try tickling each other with these coloured feathers? The first one who starts laughing has to undress even more. We bet you'll quickly find yourselves under the covers!
6. Work it out
Nothing gets your libido going like a good workout. Grab your partner and go on a bike ride, rollerblading session, quick jog, or long mountain hike. Besides helping you develop some fabulous muscle tone, this activity can function as a warm-up for your body and mind – all while being treated to a view of your honey's muscles. Why not unwind in the shower together afterwards?

7. Set yourself to vibrate
In the spring, we rearrange our wardrobe for summer, so why not get a vibrator specifically for summer? These models are too cute.

8. Stop by a sex shop
Even if the words "sex shop" are enough to make you blush, put your discomfort aside during your vacation. What better place for your sex-shop baptism than in a foreign city where no one knows you? You'll be surprised at how easy it is to browse once you make it past the door! This is also a great way to increase desire… as soon as you return to the hotel room or camp ground.

9. Vacation destination: your sensual side
Summer is the ideal time to incorporate sensuality into your daily life; this time of year offers an unlimited amount of opportunities to do so. Slowly rub in that sunscreen—and don't forget your partner's back. Cool yourself off with a lacy fan, make your cocktail last by slowly sipping it through a straw, or stroll down the street in super sexy high-heels like a model… but make sure you do it for you, and no one else! Feel beautiful and irresistable. Happy summer!